Idris Murphy & Ross Laurie
Fieldtrip to Fowlers Gap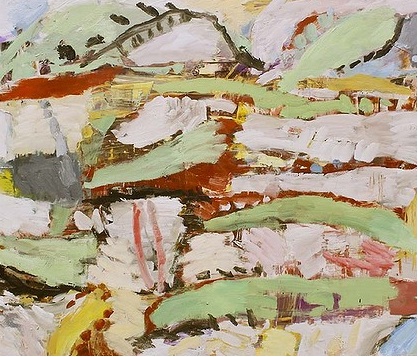 This outback adventure is designed around one of Australia's great train journeys aboard the mighty Indian Pacific. Daily flights are available, but experiencing the relaxing pace of a great train journey to get to Broken Hill, is half the fun. Spend a night in the iconic Palace Hotel which featured in the movie "Priscilla Queen of the Desert" and dates back to the 1890's. It is here we will meet and greet on our first morning prior to departure for Fowlers Gap.
Our bus will transport us through the amber hues and vibrant reds of living desert country to Fowlers Gap - home of the UNSW Research Station 112kms north of Broken Hill, where so many important Australian artists have gone before. Artist Profile Magazine featured a group of 13 prominent Australian artists from a mixture of backgrounds, ages and art practices in 2011. The artists were part of an arts laboratory and spent 14 days interpreting the arid landscape. Their adventure was named "Not The Way Home" and their work from the field was uploaded daily to a blog, allowing viewers to follow their journey. Idris Murphy and Ross Laurie were part of this group.
Idris and Ross are two of Australia's leading landscape painters and teachers who have been returning to Fowlers Gap for many years to draw inspiration for their paintings. Our 2 artists will work together to develop a program that exposes students to a variety of ideas and approaches. Participants will not only experience 3 full days with both artists but will have the added benefit of group discussion with Idris and Ross each evening on paint, painting, painters and the history of painting.
This unusual location takes time to adjust to the big skies, huge rocky hills and scrubby groundcover. The shapes of the trees, the breaking down of patterns in the dense foliage, while looking for simplicity. "If you sit yourself in the landscape, things will reveal themselves slowly" says Elisabeth Cummings who was part of the celebrated 2011 Artist Profile group.
Fowlers Gap research station provides rustic but comfortable shared accommodation in the arid zone of NSW. We have engaged a professional caterer to take care of our meals.
A wide range of research on birds, kangaroos, reptiles and other flora and fauna has been carried out on the property including soil conservation, solar energy and astronomy. It is an important site for teaching, with regular field excursions by students from both UNSW Science Department and the College of Fine Arts. The remoteness of the Station with its impressive landscape, eco trails and wildlife viewing platforms attracts artists as well as local and international visitors. It is also a working farm with more than 5000 sheep.
Make sure to visit the best art galleries of the region upon return to Broken Hill and take in all the attractions of this well known outback town.
Ross Laurie currently has a solo exhibition at King Street Gallery, Sydney and both are represented by King Street Gallery.
Some Words & Images: James Compton and ABC producer, Sean O'Brien- "Not the Way Home"
DEPOSIT REQUIRED WITH BOOKING
Location:
Fowlers Gap, Far west NSW
Date:
12th-18th May 2015 (6days/6nights)