Nicholas Harding
The Art of Still Life
"One cannot think of Nicholas Harding without thinking of paint. Luscious buttery paint. Harding is a painter of subjects: the figure, the street, the beach and most recently, flowers." - Brett Ballard 2005.
In this workshop we will use flowers to create our paintings. We will begin with sketches to address composition and use underpainting to study the characteristics of light and shade. For Nicholas, flowers present opportunities "to explore and invent in drawn paint" and it gives aspiring artists ample time to study and look closer.
Painting still life such as flowers is a practical and forgiving genre as it does not require the likeness of a portrait or the accurate proportions of the figure. Nicholas will demonstrate his amazing technique of painting with palette knife. There will be strong emphasis on composition, perspective, colour and texture.
As one of Australia's most awarded artists. His trademark thick layers of oil paint have earned him numerous awards and prizes including the Archibald Prize in 2001 and the People's Choice Award in 2005. He has been hung in the Archibald almost every year since 1994 and features in major collections throughout Australia as well as Asia, UK and USA.
Nicholas is represented by Olsen Irwin Gallery, Sydney.
Location:
Newrybar Community Hall, Newrybar, Byron Bay Hinterland
Date:
11-12th October 2014 (2 days) 9.30am to 4pm
Level:
All levels (Oils or Acrylics)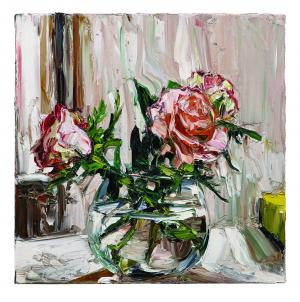 ---
Emma Walker
Layers in the Landscape
This workshop will be about landscape and is designed to help students overcome outdated work practices, creative block and provide helpful guidance in pushing your work into fresh new territory.
"The practice of artist Emma Walker consistently and evocatively engages with the natural world. An explorer at heart, Walker has informed her artistic vernacular through extensive travel and an innate desire to absorb and engage with the world around her. In this way, poetry, philosophy, photography and music are all vital components of her process. The artist's abstracted landscapes are multi-layered, being as much about the medium of paint and the process of painting as with an experience of the Australian environment and the natural world. They explore the connections between landscape, memory and the subconscious through texture and the interplay of light and dark, creating dreamlike dimension that opens itself up to multiple meanings" - Arthouse Gallery Sydney
Emma studied painting at the National Art School in Sydney and at the Academia Di Belle Arte in Perugia, Italy. She is represented by Arthouse Gallery in Sydney and Flinders Lane Gallery in Melbourne. Her work hangs in several permanent collections.
PLEASE REFER TO OUR TERMS AND CONDITIONS REGARDING CANCELLATIONS
TWO PLACES AVAILABLE
Location:
Newrybar Hall, Newrybar, Byron Bay Hinterland
Date:
15-16th November (2 days) 9.30am to 4pm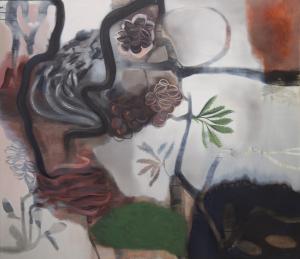 ---
Andrew Antoniou
Drawing Your Story
Maximise your creative potential by drawing on the wealth of your imagination and memory to form your own unique stories. In this workshop Andrew will take you through a process of visualisation exercises to create imaginative compositions of your own. Working with charcoal, you will also develop technical skill that will enhance your imagery through a greater understanding of line and tone study.
His teaching and drawing span a period of 35 years in Australia, the United Kingdom and USA. He has been a finalist in the major drawing prizes in Australia including a seven times finalist in the Dobell.
Andrew will demonstrate ways to look inwards for a more personal story by using poetry, text, music and song as starting points. It is the commitment to drawing that forms the core of ones art practice.
"Andrew's ability to put traditional approaches aside, allows a freer and more individual way of seeing and thinking which is totally liberating. Couple this with Andrew's positive attitude, his passion for drawing and his ability to impart knowledge and you have a learning experience that will stay with you and continue to benefit long after the end of the course." - Graeme Nichols, Sturt Summer School.
PLEASE NOTE DEPOSIT IS REQUIRED WITH BOOKING AND IS NOT REFUNDABLE.
Location:
Newrybar Hall, Newrybar, Byron Bay Hinterland
Date:
28Feb/1st March 2015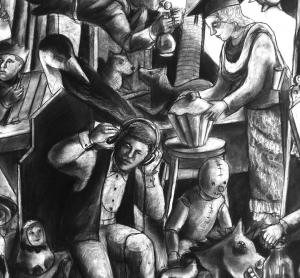 ---
Jo Bertini
Masterclass - Connected to the Landscape
This workshop is designed for artists interested in landscape, both painting and drawing and for those involved with a conversation about the nature of art making and different approaches to the Australian environment. It is intended as a master class for those wishing to develop their visual language and their own particular thinking about the genre of landscape painting.
It will offer the privilege of dedicated time in a place of creative fertility, time to work, to contemplate, uninterrupted in a landscape, where there is an opportunity for reflection and exploration away from normal habits and conventions.
There will be a work done en situ as well as in the studio, ranging from the most basic 'drawing and painting from the source' exercises, to realising visual ideas and concepts on a larger, more resolved scale. Study material will be sourced directly from the surrounding environment to be then used in an experimental process that is both instinctive as well as rigorously skill based, so that the sensibilities and engagement of the creative experimentation achieve a unique interpretation for each individual student to then pursue with further confidence.
Jo has been an artist in residence, guest lecturer and has taught masterclasses at many public and regional galleries. Her work is included in collections both nationally and internationally. This celebrated artitst is represented by Tim Olsen Gallery, Sydney and MARS in Melbourne.
DEPOSIT IS REQUIRED WITH BOOKING - PLEASE REFER TO OUR TERMS AND CONDITIONS REGARDING CANCELLATIONS

Location:
Byron Bay Hinterland
Date:
21-22nd March 2015 (2 days)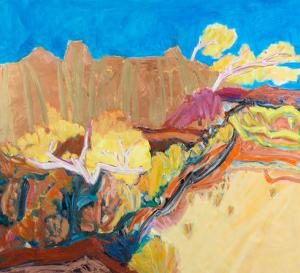 ---
Idris Murphy & Ross Laurie
Fieldtrip to Fowlers Gap
PLEASE GO TO 'EXPEDITION' MENU
TO MAKE A BOOKING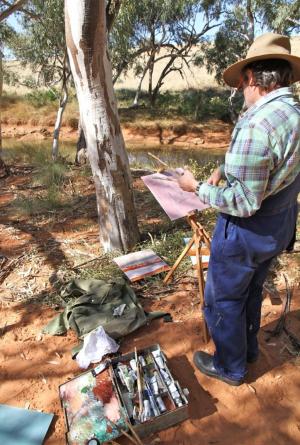 ---