Andrew Antoniou
Drawing Your Story
Maximise your creative potential by drawing on the wealth of your imagination and memory to form your own unique stories. In this workshop Andrew will take you through a process of visualisation exercises to create imaginative compositions of your own. Working with charcoal, you will also develop technical skill that will enhance your imagery through a greater understanding of line and tone study.
His teaching and drawing span a period of 35 years in Australia, the United Kingdom and USA. He has been a finalist in the major drawing prizes in Australia including a seven times finalist in the Dobell.
Andrew will demonstrate ways to look inwards for a more personal story by using poetry, text, music and song as starting points. It is the commitment to drawing that forms the core of ones art practice.
"Andrew's ability to put traditional approaches aside, allows a freer and more individual way of seeing and thinking which is totally liberating. Couple this with Andrew's positive attitude, his passion for drawing and his ability to impart knowledge and you have a learning experience that will stay with you and continue to benefit long after the end of the course." - Graeme Nichols, Sturt Summer School.
DEPOSIT IS REQUIRED WITH BOOKING AND IS NOT REFUNDABLE.
Location:
Byron School of Art Venue, Station Street, Bangalow NSW
Date:
28Feb/1st March 2015 (2 days) 9.30 to 4pm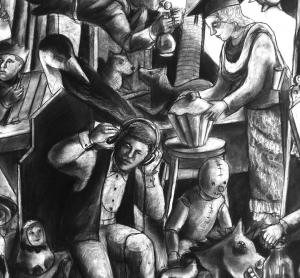 ---
Jo Bertini
Your Artistic Eye - An expressive, personal approach to Landscape Painting
The workshop is intended as a master class for those interested in the concept of a personalised, expressive 'connection to country' who wish to develop their own visual language around the land as a subject and their own particular thinking about the genre of landscape painting. Learning to look selectively and practice opportunism with your ideas and practice. Working with instinct but rather than reacting to an impulse, learning to include your thinking and education.
Resource and study materials such as sketch books, drawings, photography and small scale concept studies will be used in an experimental process that uses each artist's intuitive, instinctive strengths as well as developing skill based techniques, so that the considered, creative experimentation achieves a unique interpretation for each individual student to then pursue with further confidence.
DEPOSIT IS REQUIRED WITH BOOKING AND IS NOT REFUNDABLE

Location:
Byron School of Art Venue, Station Street, Bangalow NSW
Date:
21-22nd March 2015 (2 days) 9.30 to 4pm
---
Christopher Orchard
Imaginary Drawing
The 2 day workshop will focus on the head as an invented entity. As in Orchards' work, the "avatar" is the carrier of meaning and identity drawn from his imagination/memory. Participants will be guided into speculative drawings which, to some extent, will invent a person through repetition and honing of serial images. Each day will be constructed exercises, strategies, some surprising, for testing the increasing "intelligence" of the drawings.
Chris Orchards many students feel priviliged to have him as a teacher. He is one of the leading exponents of the drawn image and is well recognised by his peers in Australia, Europe and the USA.The focus of this workshop will be drawing on paper with materials such as graphite, natural charcoal and charcoal pencils.
Chris has held 25 solo exhibitions. His work was surveyed in a major exhibition at the Art Gallery of South Australia. He tutors drawing at the Adelaide Central School of Art and is an active supporter of professional development for young artists. His is represented in most State and Regional Galleries and in public and private collections.
DEPOSIT REQUIRED WITH BOOKING AND IS NOT REFUNDABLE
Location:
Byron School of Art venue, Station St, Bangalow, NSW
Date:
2-3rd May 2015 (2days) 9.30-4pm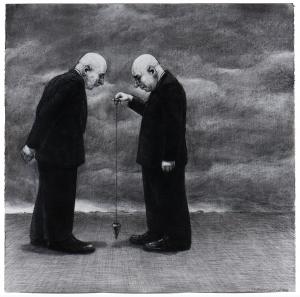 ---
David Fairbairn & Suzanne Archer
Two Heads are Better than One
A weekend Drawing workshop with Suzanne Archer and David Fairbairn will provide two different contemporary approaches to drawing the human head. The first day David will teach you an adventurous but analytical way to draw the human head. You will work from yourself using a mirror with a range of mixed media making a series of detailed preliminary studies which will prepare you for day 2.
On the second day Suzanne will work with the emotive self-portrait interpreting it with the focus on a psychological and holistic approach. This will involve the use of a mirror again and require an open mind regarding what is meant by self portraiture.
Suzanne Archer has exhibited on a regular basis in Australia since 1967. Winner of many Art Awards including the Wynne Prize for Landscape Painting in 1994 and most recently the Dobell Prize for Drawing and Kedumba Drawing Award in 2010. Her work is represented in many Regional Galleries throughout Australia. Suzanne was a Sessional teacher in the Painting and Drawing Departments at the National Art School for many year. Suzanne is represented by Janet Clayton Gallery, Sydney.
David Fairbairn was awarded the Dobell Drawing Prize in 1999, The Doug Moran National Portrait Prize in 2002 and more recently the Mosman Art Prize in 2012. He was a finalist in the Archibald in 2012 and the Doug Moran National Portrait Prize in 2013. He has exhibited extensively in Australia and is represented by Stella Downer Fine Art in Sydney. David is currently a visiting lecturer in the Drawing Department in the National Art School.
DEPOSIT REQUIRED WITH BOOKING AND IS NOT REFUNDABLE
Location:
Byron Bay Hinterland
Date:
29 - 30th August 2015 (2 days) 9.30-4pm
Level:
Intermediate to Advanced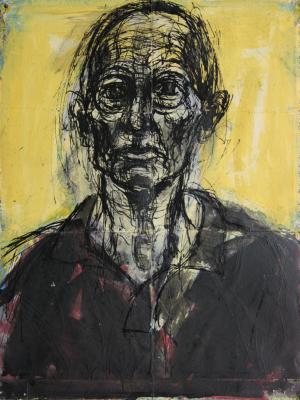 ---