Judy Watson
Drawing on Memory
In this workshop we will source ideas from the environment around us. With sketchbook in hand we will draw shapes, make notes and frottages during our walk and search our surroundings for found materials. We will talk about the feel of the work, the energy, the issues and the location.
Back at the workshop we will play with materials (eg) charcoal, pastels, ink, water based paint on paper or canvas, material or board, and try different techniques and ways of layering materials and ideas. This could include mono-printing, tracing and repeating motifs.
The idea is to shift focus and challenge ourselves by making marks, discussing art and life, culture, history and place.
Australian indigenous art has a broad reputation as being innovative; but few artists are as intriguing as Judy Watson. While her work takes its inspiration from the land and traditions of the Waanyi culture, Watson distils her distinctive stained canvases into poetic abstractions that have the power to speak to all.
Margie West comments: 'Even though the messages in her work are often tough, they are conveyed in an almost subliminal and subtle way, to be discovered in the layering of the surface and the imagery that floats mirage-like on it.'
Describing herself as a 'cultural traveller,' Judy Watson has completed projects in India, Italy, France and the United States and exhibited widely over the last 20 years. She co-represented Australia at the 1997 Venice Biennale with Emily Kame Kngwarreye, Yvonne Koolmatrie and won the Moet & Chandon Fellowship in 1995.
Location:
Newrybar Hall, Newrybar, Byron Bay Hinterland
Date:
10-11th May 2014 - 9.30am to 4pm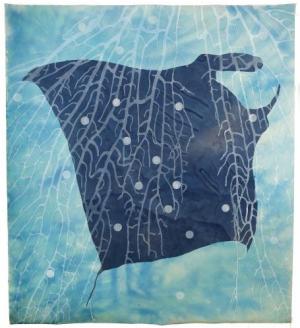 ---
Cherry Hood
Painting Faces in Watercolour
The methods used are not conventional or traditional watercolour techniques.
Working from photos Hood demonstrates how she makes her large scale watercolour paintings and will assist each participant in preparing colours, drawing the image and applying the paint. Students who wish to venture into large scale works will be encouraged to pour watery paint onto their paper. You will proceed on with a second painting during the drying process. Large brushes are preferable to achieve quick, loose flowing marks while smaller brushes are used for detailing the facial features.

Hood gives demonstrations in drawing and painting the eyes, nose, mouth etc to help students understand and achieve the required proportions when painting portraits and transforming a photograph into a recognisable haunting image.

Participants from all levels of experience may expect to produce at least two good paintings in the style of Cherry Hood - ie a large human face- by the end of the second day.
Cherry is represented by Tim Olsen Gallery, Sydney, Arc One, Melbourne, Heiser Gallery, Brisbane, Paul Greenaway, Adelaide and Turner Gallery, Perth. Hood attained a Master of Visual Art at the Sydney College of Arts in 2000. Her thesis investigated gender politics in art and cultural mores and taboos. She is represented in major Australian institutional and gallery collections; and has won the Arhcibald Prize in 2002.
SEE DATES FOR SECOND WORKSHOP
Location:
Newrybar Hall, Newrybar, Byron Bay Hinterland
Date:
14-15 June 2014 (2 days) - 9.30am to 4pm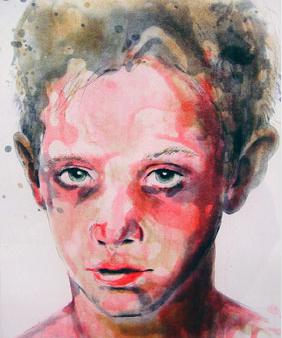 ---
Cherry Hood
Painting Faces in Watercolour
DUE TO UNPRECEDENTED DEMAND THERE
WILL BE A SECOND WORKSHOP.
DETAILS FOR THIS WORKSHOP ARE THE
SAME EXCEPT FOR THE DATE.
Location:
Newrybar Hall, Newrybar, Byron Bay Hinterland
Date:
21-22 June 2014 (2days) 9.30am to 4pm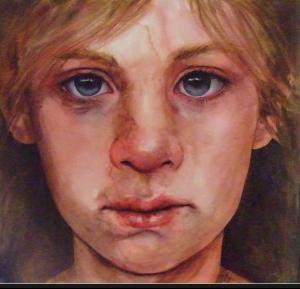 ---
Idris Murphy
Questions of Seeing
Murphy remains enthralled by the Australian bush and his paintings are built with a memory inbued by experience in the landscape. In this workshop Idris will explore references and influences from the paintings of Matisse and the writings of Martin Buber and demonstrate his techniques in connecting with these influences.
"Artists often struggle how to see", says Idris. He will look at the question of 'seeing' and discuss where influences have taken you in your work and how to interpret the landscape in a new way. He will show you how to make hurdles for yourself in your work, to allow things to 'happen'.
Idris's art education was in the UK at Winchester School of Art, at the NAS as Head of Drawing, Wollongong University and lecturer at COFA. He has had numerous solo and group exhibitions throughout his long career.
"Murphy is an artist's artist, the kind of painter who inspires a degree of aw among his followers, in part because he makes the process of painting seem effortless, but also because he demonstrates his technique in every canvas."
by Andrew Frost
Location:
Newrybar Hall, Newrybar, Byron Bay Hinterland
Date:
9-10th August 2014 (2days) 9.30am-4pm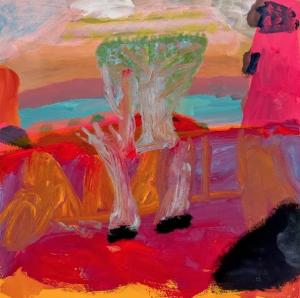 ---
Peter Sharp
From Nature to Abstraction
Peter has a unique relationship with the natural world and not only provides a potent response to our landscape but also a window into his artistic process. He collects sticks, rocks and twigs which he binds together to form shapes. It is from these shapes, silhouettes and the shadow created by the constructed object, that form the basis of his drawings and are finally developed into larger paintings and sculpture.
Sharp says: 'It is really important for me to put certain processes in place. It is through the works on paper, drawings, paintings and then sculpture that I am able to abstract what I am seeing. I am interested in getting people to look at things they normally would not look at twice.
In this workshop students will use different processes to open up their expectations of what drawing can be and create a body of work using various media that explore and test their understanding of natural forms.
Born in Sydney in 1964, Peter completed a Bachelor of Art Education at City Art Institute, Sydney in 1987 before graduating with a Masters in Fine Art at the University of New South Wales, College of Fine Arts in 1992, where he continues to lecture. Peter has had numerous solo exhibitions and has completed a series of overseas residencies in France and Germany. His paintings have been exhibited in the Wynne and Sulman Prize and have been hung in a number of regional gallery exhibitions throughout Australia.
Peter is represented by Liverpool Street Gallery, Sydney
Location:
Newrybar Hall, Newrybar, Byron Bay Hinterland
Date:
20-21st Sept 2014 (2days) 9.30am to 4pm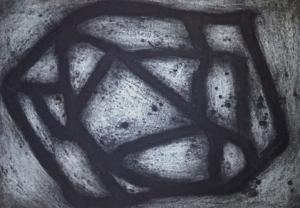 ---