Tim Allen
Landscape Fast and Loose II
PLEASE DO NOT PAY TO BE ON THE WAITLIST
Location:
AWA Studio, Knockrow NSW(10mins south of Bangalow)
Date:
17/18th September 2016 (2 days 9.30am to 4pm)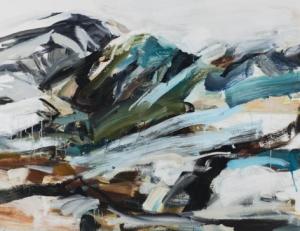 ---
Robert Malherbe
Expressive Still Life
Still Life gives the artist freedom in the arrangement of elements within a composition than do paintings of other subjects such as landscape and portraiture. Focus will be on composing and creating a dramatic image, capturing light and space - the most important elements in a painting. A painting without the effect of light will be a painting of things - a rock, flowers, a tree etc. Great artists paint the effect of the light and how it illuminates subject matter to make a stunning, eye-catching painting.
Preliminary sketching will be necessary to establish the composition, the lights and the darks. We will learn the value of contrast in still life painting, techniques, colour mixing, working wet-into-wet, brushstrokes and more.
Robert's solo show with Jan Murphy in Brisbane "In a Brighter Light" begins 14th June.
DEPOSIT IS NOT REFUNDABLE NOR TRANSFERABLE
PLEASE DO NOT PAY TO BE ON THE WAITLIST

Location:
AWA Studio, Knockrow NSW(10mins south of Bangalow)
Date:
10/11th September 2 days 9.30am to 4pm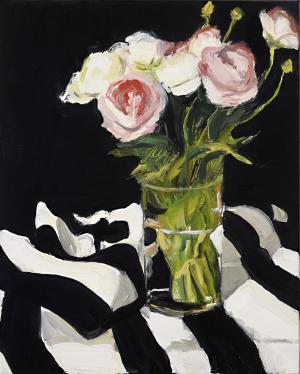 ---
Jo Bertini
Abstraction in the Landscape
The workshop is designed for artists interested in landscape, both painting and drawing and for those involved with the conversation about the nature of art making and different approaches to the Australian environment. It is intended as a master class to develop a visual language and a particular thinking about the genre of landscape painting.
There will be work done en situ as well as in the studio, ranging from the most basic 'drawing and painting from the source' exercises to realising visual ideas and concepts on a larger, more resolved scale. Study material will be sourced directly from the surrounding environment to be used in our experimental process.
Resource and study materials such as sketch books, drawings, photography and small scale concept studies will be used in an the preliminary approach that uses each artist's intuitive, instinctive strengths as well as developing skill based techniques, so that the considered, creative experimentation achieves a unique interpretation for each individual student to then pursue with further confidence.
PLEASE DO NOT PAY TO BE ON THE WAITLIST
DEPOSIT REQUIRED WITH BOOKING - IS NOT TRANSFERABLE NOR REFUNDABLE
venue:
142 Martins Lane, Knockrow NSW

Location:
AWA Studio, Knockrow NSW(10mins south of Bangalow)
Date:
29/30th October, 2016 (2 days) 9.30 to 4pm
---
David Fairbairn & Suzanne Archer
Two Heads are Better Than One
A weekend Drawing workshop with Suzanne Archer and David Fairbairn will provide two different approaches to drawing the human head. The first day David will teach you an adventurous but analytical way to draw the human head. You will work from yourself using a mirror with a range of mixed media making a series of detailed preliminary studies which will prepare you for day 2.
On the second day Suzanne will work with the emotive self-portrait interpreting it with the focus on a psychological and holistic approach. This will involve the use of a mirror again and require an open mind regarding what is meant by self portraiture.
Suzanne Archer has exhibited on a regular basis in Australia since 1967. Winner of many Art Awards including the Wynne Prize for Landscape Painting in 1994 and most recently the Dobell Prize for Drawing and Kedumba Drawing Award in 2010. Her work is represented in many Regional Galleries throughout Australia. Suzanne was a sessional teacher in the Painting and Drawing Departments at the National Art School for many years.
David was awarded the Dobell Drawing Prize in 1999, The Dough Moran National Portrait Prize in 2002 and more recently, the Mosman Art Prize in 2012. He was a finalist in the Archibald in 2012 and the Doug Moran National Portrait Prize in 2013.He has exhibited extensively in Australia and is represented by Stella Downer Fine Art in Sydney. David is currently a visiting lecturer in the Drawing Department of the National Art School.
Check Information page for venue location
DEPOSIT IS NOT REFUNDABLE NOR TRANSFERABLE
Location:
AWA Studio, Knockrow NSW(10mins south of Bangalow)
Date:
26-27th November 2016 (2days) 9.30-4pm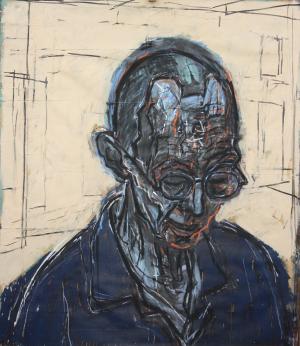 ---
Jo Bertini
Camel Trek - Flinders Ranges
This trip is planned in conjunction with Camel treks Australia who are based in Hawker SA. They are South Australia's most experienced camel riding Company and the only Tourism Awarded Camel Riding Trek Company in the Flinders Ranges. They have created a finely tuned 4 day trek for us beginning in Hawker.
We will be transported from Adelaide to Hawker by bus and begin trekking just after midday. In authentic style we will pack the camels with supplies and traverse spectacular Central Flinders landscapes. We will sleep under the stars, enjoy camp oven meals over the fire and explore our inner artist with Jo Bertini.
Jo is an award winning Australian artist - a painter, a writer, lecturer and teacher. Although widely travelled, she has maintained her connection to country and spends her winter months exploring the remote desert regions of Australia as the Expedition Artist with Australian Desert Expeditions.
Bertini's interest as an artist has been the landscape, places and people of remote desert regions of Australia. Her recently published book "Jo Bertini Fieldwork" is a selected collection from Jo's private archive of works made directly 'en situ' while on expedition. It is a visually engaging contemporary art book that brings to life the artist's long and intimate involvement with the Australian desert. Her pen and ink drawings, works in pencil, charcoal and hundreds of small gouaches are a vibrant visual diary of the changing landscape.
You will not have all the comforts of home but you will let the outback into your life in an emotional and spiritual way as you respond to this ancient landscape. By getting a little dirt on your shoes - relying on your senses and instincts each day will reveal magnificent scenery, pink rocks, wide river beds, secret gorges and gigantic trees.Under Jo's expert guidance you will create your own visual diary.
Itinerary: beryl@artworkshopsaustralia.com.au
DEPOSIT WITH BOOKING $600 TO CONFIRM - NOT TRANSFERABLE NOR REFUNDABLE
Location:
Hawker, Flinders SA
Date:
3rd-7th April 2017 (4 nights)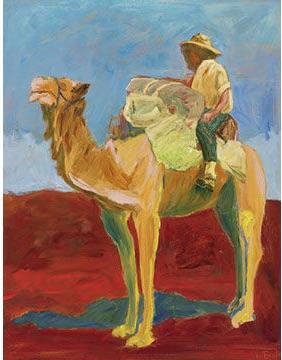 ---