David Fairbairn & Suzanne Archer
Two Heads are better than One
A weekend Drawing workshop with Suzanne Archer and David Fairbairn will provide two different contemporary approaches to drawing the human head. The first day David will teach you an adventurous but analytical way to draw the human head. You will work from yourself using a mirror with a range of mixed media making a series of detailed preliminary studies which will prepare you for day 2.
On the second day Suzanne will work with the emotive self-portrait interpreting it with the focus on a psychological and holistic approach. This will involve the use of a mirror again and require an open mind regarding what is meant by self portraiture.
Suzanne Archer has exhibited on a regular basis in Australia since 1967. Winner of many Art Awards including the Wynne Prize for Landscape Painting in 1994 and most recently the Dobell Prize for Drawing and Kedumba Drawing Award in 2010. Her work is represented in many Regional Galleries throughout Australia. Suzanne was a sessional teacher in the Painting and Drawing Departments at the National Art School for many years.
David Fairbairn was awarded the Dobell Drawing Prize in 1999, The Doug Moran National Portrait Prize in 2002 and more recently, the Mosman Art Prize in 2012. He was a finalist in the Archibald in 2012 and The Dough Moran National Portrait Prize in 2013. He has exhibited extensively in Australia and is represented by Stella Downer Fine Art in Sydney. David is currently a visiting lecturer in the Drawing Department in the National Art School.
DO NOT PAY DEPOSIT IF YOU ARE WAITLISTED
Location:
Byron School of Art Venue, Station Street, Bangalow NSW
Date:
29-30th August 2015 (2days) 9.30-4pm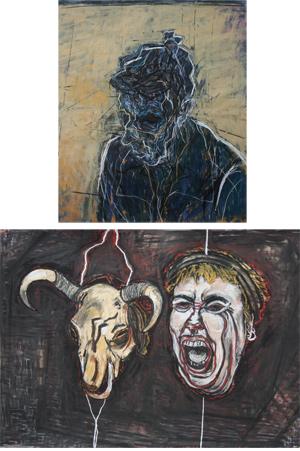 ---
Wendy Sharpe
A Day In Wendy's Studio
An exclusive 'one off' to work in the studio of Wendy Sharpe for the day. Wendy will conduct compositional and drawing exercises with the group and will throughout the day demonstrate how she creates her provocative and sensuous images of the human form. Sharpe has developed a distinctive gestural style grounded in an innate ability to draw. She confronts the complexities of human relationships and universal themes of love. Often working directly from life, her paintings possess a spontaneity and directness that invites viewers to engage with the work on an emotional level.
Address details will be provided with booking.
DO NOT PAY DEPOSIT IF YOU ARE WAITLISTED
Location:
Enmore Studio, Sydney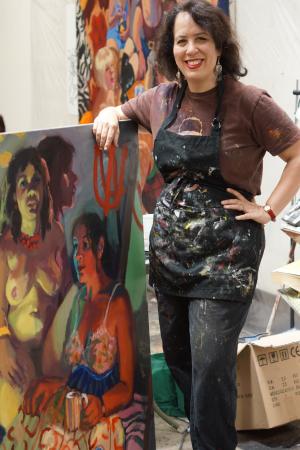 ---
Judy Watson
Drawing on Memory
In this workshop we will source ideas from the environment around us. With sketchbook in hand we will draw shapes, make notes and frottages during our walk and search our surroundings for found materials. We will talk about the feel of the work, the energy, the issues and the location.
Back at the workshop we will play with materials (eg) charcoal, pastels, ink, water based paint on paper or canvas, material or board, and try different techniques and ways of layering materials and ideas. This could include mono-printing, tracing and repeating motifs.
The idea is to shift focus and challenge ourselves by making marks, discussing art and life, culture, history and place.
Australian indigenous art has a broad reputation as being innovative; but few artists are as intriguing as Judy Watson. While her work takes its inspiration from the land and traditions of the Waanyi culture, Watson distils her distinctive stained canvases into poetic abstractions that have the power to speak to all.
Margie West comments: 'Even though the messages in her work are often tough, they are conveyed in an almost subliminal and subtle way, to be discovered in the layering of the surface and the imagery that floats mirage-like on it.'
Describing herself as a 'cultural traveller,' Judy Watson has completed projects in India, Italy, France and the United States and exhibited widely over the last 20 years. She co-represented Australia at the 1997 Venice Biennale with Emily Kame Kngwarreye, Yvonne Koolmatrie and won the Moet & Chandon Fellowship in 1995.
DO NOT PAY DEPOSIT IF YOU ARE WAITLISTED
Location:
Byron School of Art Venue, Station Street, Bangalow NSW
Date:
14/15th November 2015 - 9.30am to 4pm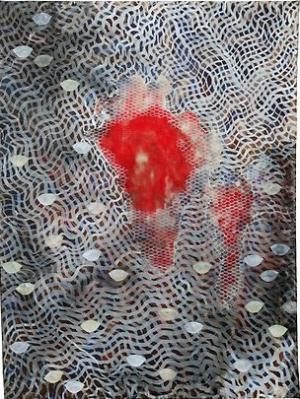 ---
Jo Bertini
Arkaroola Dreaming - Flinders Ranges
Jo Bertini is an award winning established Australian artist, painter, teacher and lecturer at many national and public regional art galleries and tertiary institutions. Jo spends her winter months exploring the remote desert regions of Australia as the Expedition Artist with Australian Desert Expeditions. She has been exhibiting for 25 years and been awarded several important commissions and residencies throughout Australia.
Jo's interest as an artist has been the landscape, places and peoples of remote desert regions of Australia. The recently published book of Jo Bertini Fieldwork is a selected collection from Jo's private archive of works made directly 'en situ' while on expedition. The book brings to life the artists long and intimate involvement with the Australian desert. Jo brings an energy that corresponds with the emotional response to the landscape.
Since the Sprigg family turned the drought-stricken area into a magnificent flora and fauna reserve, this sanctuary has become a mecca for artists and photographers inspired by the spectacular views, rugged mountains, towering granite peaks and magnificent gorges. It is on the north western side of the ancient Flinders Mountain range. It is some 600 km north of Adelaide and 130km east of Leigh Creek. Getting there has been made simple for you by flying into Adelaide from any major city for an overnight stop and early morning start on our special charter luxury coach so that you are free to enjoy the scenery.
Even though the area is quite remote from the nearest town, you won't miss much in the way of comfort. All rooms are twin share with en suite bathroom. There is a communal kitchen and large shared lounge area which may be used as a studio for those who wish to keep painting after hours. The resort has a fully licensed restaurant and a bar. Meals are included and will be taken in the restaurant.
Contact: beryl@artworkshopsaustralia.com.au for an itinerary and further details
Image: Jo Bertini "FIRELIGHT"
DO NOT PAY DEPOSIT IF YOU ARE WAITLISTED

Location:
Arkaroola Wilderness Resort, Northern Flinders Ranges S.A
Date:
13-18th September 2015 (5nights - 4 full days)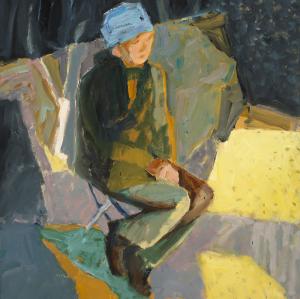 ---
Nafisa Naomi
Animal Works - 11 Day exclusive Safari to Africa
Nafisa has attended workshops with us and is co-founder of Animal Works, a non-profit organisation that works with partners around the globe to conserve wildlife.
There are just 4 places left.
CONTACT JULIA SALNICKI at THE CLASSIC SAFARI COMPANY FOR DETAILS
+61 2 9327 0666
Date:
24th October - 4th November 2015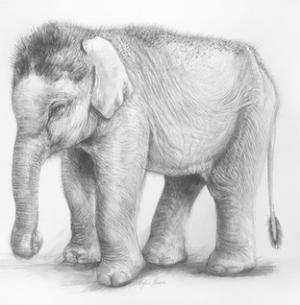 ---